EasyPro™ Herb Grinder
Regular price
$34.99
Sale price
$69.98
Unit price
per
No More Messy Cutting Boards...Enjoy Fresh Herbs With Ease!

Finally...a hassle-free way to introduce herbs and spices into your kitchen! The EasyPro Herb Grinder helps you grind fresh herbs and spices, mess-free...and at half the price! Say goodbye to messy cutting boards, and say hello to the EasyPro Herb Grinder!

Due to current events, please allow 2-4 weeks for shipping 📦
Highlights
✅Safe Design, so you don't have to worry about hurting your fingers like a traditional knife or cheese grinder.
✅Easy to Clean-The EasyPro Herb Grinder can be taken apart, and washed with ease. Dishwasher safe.
✅BPA Free-This product is BPA free, which means it's safe to use in the kitchen, or even on the go!
✅Portable-Take the EasyPro Herb Grinder anywhere! Impress your friends at a dinner party...or even bring it to a BBQ. The EasyPro Herb Grinder can travel with you. 
✅Stainless Steel-The blades are made of stainless steel, which means that they are sturdy, safe, and long lasting.
✅Mess Free-No need to use a messy cutting board to chop your herbs. The EasyPro Herb Grinder will do the work for you. 
✅Multi-Functional Herb Choppers-Multi-functional design makes it easy to cut parsley, cilantro, dill, sage, and mint...beautifully!
The EasyPro Herb Grinder is a fully-featured, high-performance, quality herb & spice grinder, that will save you precious time in the kitchen. Now, you can be more creative, and efficient, with the help of this amazing kitchen tool...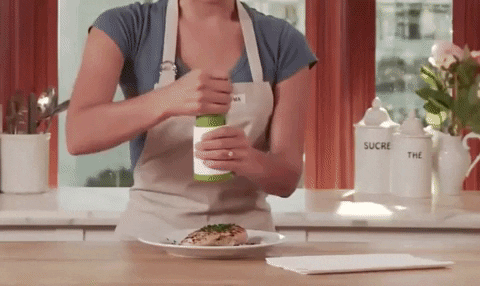 How to use:
Wash and dry herbs before use, for best results

Open the top cover, and put your clean, dry herbs inside
Screw the top cover back on
Hold the body of the EasyPro Herb Grinder firmly with one hand, and grasp the top with your other hand
While gently applying downward force, twist the top
Garnish any dish you like, and enjoy!
Dimensions: 6.4" x 2.8"
---